Alfred Badia was born on the 19th of September, 1912 in Princesa Street, in the heart of Barcelona's old quartier. His father, the accountant Manuel Badia Gatuelles, contracted an illness that kept him away from family life when his son was eight years old. As a consequence, Alfred Badia was brought up by his mother, Conxita Gabarró Boix, who came from Monistrol and ran a tailor's workshop in her home. Her all female staff, along with aunts and grandmothers from both sides of the family, immersed him in a predominantly feminine atmosphere.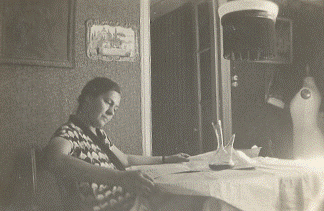 Conxita Gabarró pretending not to notice she was being photographed.
The boy was thin and tallish –he measured 1.80 meters as an adult– and doctors prescribed him recuperative sojourns out of the city. Hence the summers spent in Sant Vicenç dels Horts, where the "city boy" made young acquaintances who taught him how to play football. This learning of the game in a Catalan rural environment allowed him, later in life, to provide amiable linguistic advice to the sports journalist Joaquim Maria Puyal, when the latter undertook the task of normalising the usage of Catalan language in football radio broadcasts.
His first school was Sant Josep School, on the famous Montcada Street. He later entered the Jesuit School on Casp Street, with a merit based scholarship to study business. The Jesuit priests' methods for instilling the foundations of faith, and especially their threats regarding eternal damnation, impressed upon the youngster's sensibilities to the point that he termed them "devastating" in later adulthood. He earned a business management degree aged fifteen, which meant he could start working. He did so at the brokerage house managed by Mr Gomis, father of the future journalists Joan, Joaquim and Llorenç. This took place in 1927, during General Primo de Ribera's dictatorship. Alfred Badia's working relationship with the company lasted until the '50s, and his affectionate links with the Gomis family were long-enduring.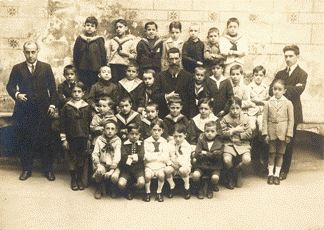 Badia, the boy standing on the right, at Sant Josep School towards the 20s.
Badia's formal education had barely had any Arts content; given the political situation, the Catalan language had obviously been absent from it. However, his mother and aunts were Catalanists, and being frequent visitors to popular theatres and cinemas, they also enjoyed the mainstream literature written in their country's language. They even allowed themselves some travel abroad. On the 14th of April 1931, when the Second Spanish Republic was declared, Alfred Badia was 19.
An advert from the Ateneu Enciclopèdic Popular (the People's Athenaeum, dedicated to the promotion of culture among working class people) changed his life; that is to say, he learned that there was something infinitely more interesting than gymnastics, athletics, boxing matches, trips to the theatre, and street balls—preparing for university entrance. The out of date official Spanish secondary education curriculum had stood since the beginning of the century, and some of his teachers in the Balmes Institute were living relics, but Alfred Badia and his enthusiastic colleagues at the Athenaeum—Carles Biosca, Alexandre Blasi, Pere Folch, Josep Maria Mompió, Josep Ruestes, Eduard Segalàs, Jordi Segalés, Josep Vinyolas, the Pàmies brothers, and so many others—devoured the programme's contents with the intention of becoming properly cultured citizens. Badia realized that the world had an intelligible dimension susceptible to be gleaned through information gathering and intellectual inquiry. Philosophy was the appropriate instrument to teach how to think independently and "without prejudices", "bracketing" the catholic doctrine he had been inculcated with in school through, what he only half jokingly called, "terrorist" methods. In the meantime, the patriotism he had acquired from his family was taking on an added political dimension shaped by the official Catalan institutions of the Generalitat, the Catalan autonomous government, and the popular emergence of Catalan usage. He voted the Esquerra Republicana Party (Republican Left) of those years with conviction, in spite of the general anarchist and Marxist trends among his Athenaeum colleagues, with whom he established a lifelong companionship.
Alfred Badia's Catalanism was born out of his attachment to his country's language. Through language came literature, especially poetry (Joan Maragall, Jacint Verdaguer, Josep Maria de Sagarra , Josep Carner, Carles Riba) and love towards the territory, accompanied by wanderlust, and the wonder of a city man before the rugged high mountain landscapes [Diàleg (Dialogue) poem in Catalan]. History also interested him, but to a lesser degree—Catalanism was understood as a commitment for action, a kind of secular religion, born from enthusiasm and the rediscovered values of language and country. This was one of the first certainties, in a supposedly strict epistemological sense, he discovered for himself.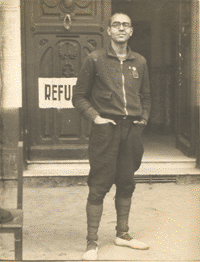 Alfred Badia, probably in
Tàrrega, in the early war years (1937).
In 1937 he obtained two new titles—he became a Catalan teacher for the Generalitat and a medical and surgical practitioner for the Spanish Republic, which was at war since the July 18th 1936 uprising by General Francisco Franco. Badia obtained his medical title in order to go to the front "without having to shoot a single bullet", in spite of his doubts on his skill in tending to the wounded. Meanwhile, his Catalan teaching credentials would lead to a long term career. This, however, was delayed until the end of the dictatorship inaugurated in 1939, that is to say, until the '70s. In order to achieve his title he had the good fortune to take a Normative Grammar course with Pompeu Fabra at the University of Barcelona. His class notes, accurately revised and conserved with devotion, form part of the Complete Works of Fabra's 2nd volume published by the Institut d'Estudis Catalans (IEC, Institute of Catalan Studies).
Mobilisation took Alfred Badia to the Barbastre area, in the Aragon front, where he read and wrote poetry and theatre plays, all of them lost, however, in the confusion of the bombardments and retreat. Badia's company crossed the El Pertús border in late 1938 and ended up in the Argelers concentration camp. After surviving a typhoid fever infection, he chose to come back to Barcelona to his mother, who had been seriously ill during the war.
He then went back to his trade management job; the heavy weight of Francoism rekindled his childhood Catholic faith. Deflated and defeated, Alfred Badia looked from the beginning for an opening to act in favour of the Catalan language, but in the early '40s there were none, especially in the faculty of Philosophy and Letters of the University of Barcelona where he had enrolled. Basic classical Greek was compulsory in the required courses, and he improved his Italian, English and German on his own. Pere Font i Puig (1888 – 1959), philosopher and psychologist who claimed a humanistic psychology, was the professor who inspired the most respect and admiration, but Badia's relationship with Tomàs Carreras i Artau, professor of ethics, lawyer and ethnologist, was more personal and easy-going.
The wedding was in 1947.
The marriage lasted 47 years.
Alfred Badia was already 36 when he obtained his Philosophy (Honours) degree. He was kept apart from academic life by the need to earn a living, although occasionally he wrote texts about the History of Catalan thought on commission. He had married Maria Dolors Pàmies, an old colleague from the Athenaeum, on 15th September of the previous year. She was forced to abandon her position as a teacher for the Republic when her teaching credentials were rendered meaningless by the new regime, though she continued to work as a private school teacher. It was thus, due to his wife's influence, that Badia became a secondary education professional. He soon found a job in the Casp Jesuit School. His earnings were completed with one-on-one tutoring, and lessons on many subjects in several private academies. He kept on writing poems and theatre plays, and began a translation of Els sonets a Orfeu (The Sonnets to Orpheus) by Rainer Maria Rilke, whom he discovered in the early '50s; all of these with little hope he should ever be read.
When Franco's dictatorship started to tolerate public use of Catalan during the '60s, Alfred Badia was keen on participating in every event related to the country's language; from the Cantonigròs literary festival (the poetry contest of Sant Roc de Cantonigròs and the literary celebrations of Collsacabra that took place from 1944 to 1968 near the town of Vic), to the literary prizes of Santa Llúcia's night, and to the Penya Santamaria meetings. In 1961 this society presented him with a theatre prize for a bittersweet comedy whose leading role was a cybernetic woman: Calpúrnia. A censored version was staged as a single performance by the an amateur company Agrupació d'Art Dramàtic de Barcelona (Dramatic Art Group of Barcelona) in Palau de la Música Catalana, one of Barcelona's most celebrated concert halls, the following year. Badia began his adventure as a writer when he was already 50. The Vatican's winds of change brought by Pope John XXIII's Second Vatican Council favoured a beneficial relaxation of Alfred Badia's relationship with the Catholic faith. [Plany de l'agnòstic que reclama Déu (Plaint of the agnostic that calls for God) poem in Catalan].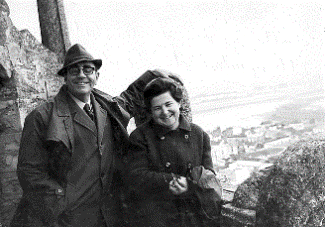 Alfred and Maria Dolors in Cordova's Mosque in 1969.
He organized voluntary Catalan lessons for the higher education students in the Casp Jesuit school before leaving it for good. He also promoted the use of the language in the girl's school Betània, where he was finally teaching philosophy. In contrast, he had the chance to teach regular Catalan courses in the Institució Cultural del CIC (CIC's Cultural Institution), as well as being in charge of other subjects such as History of Thought courses, with the support of one of its directors, Joan Triadú. During the Pompeu Fabra's Centenary acts of 1968, Alfred Badia became very active and enthusiastic. His first poetry book was published on the same year: Urgències (Urgencies) [Inventari (Inventory) poem in Catalan]. On the other hand, he was commissioned the Catalan version of two works written by the protestant theologist Paul Tillich, Els fonaments trontollen (The Shaking of the Foundations) and La presència de l'Etern (The Presence of the Eternal).
In 1970 the Hispanic Philology Department of the Autonomous University of Barcelona hired Alfred Badia as a visiting Catalan lecturer for the Philology and Journalism faculties [Presó de cendra (Prison of Ash) poem in Catalan]. His new role as a philology lecturer—in dialogue with his daughter and son in law studying that same subject at the time—was accompanied by wining some minor literary prizes. Nonetheless, a theatre play and a poetry book eventually appeared in commercial collections of Catalan literature: Una croada (A Crusade), published in "Llibres de l'Escorpí. Teatre", from Edicions 62 (1971), and Presó de cendra (Prison of Ash), in "Llibres de l'Ossa Menor", from Aymà Editora (1976). In addition, Les Edicions del Mall published the poetic translation of Els sonets a Orfeu (The Sonnets to Orpheus) in 1979, which won the Serra d'Or Catalan Culture Magazine Translation Prize the following year.
Alfred Badia's 1977 retirement allowed an intense dedication to stylistic advice and proof reading, always in service to a Catalan language he wished to be genuine and correct, yet also lively, flexible and creative: neither "heavy" nor "light". He explained it in many articles and he put it into practice with the anonymous revision of advertisement, psychoanalysis journals, theology books, novels, and even high level political speeches. Moreover, retirement also brought him the opportunity to attend different courses, meetings and lectures on thought and literature, especially those of the Col·legi de Filosofia of Barcelona (School of Philosophy), where he engaged in an enriching friendship with the philosopher Ramon Alcoberro. He moved from his Princesa Street flat to Sarrià quarter [L'ibiscus llenguallarg de Sarrià o el campanar floral (Sarria's longtongued ibiscus or the flower belfry) poem in Catalan] and spent the summers at Campelles, in the Valley of Ribes in the Pirenees; [Campelles poem in Catalan]; there he enjoyed stimulating conversations with the physics professor and poet David Jou.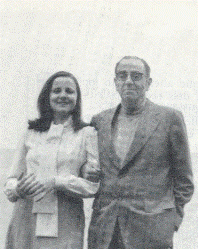 Alfred and Lola Badia
on 29th December 1973.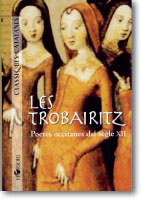 Lola Badia, by then professor of Catalan medieval literature, embarked her father in several endorsing tasks, such as the poetic translation of 60 troubadour's poems for the (collection) "Les Millors Obres de la Literatura Catalana" (The Best Works of Catalan Literature) from Edicions 62 (1982), which received the Serra d'Or Translation Prize for the second time. He also translated 23 poems by trobairitz (female troubadours), for the collection "Clàssiques Catalanes" (Female Catalan Classics) from Edicions LaSal (1988). Some specialized articles on poetic translation technique and interpretative works on Catalan literary authors (Salvador Espriu, Josep Carner, J. V. Foix) form also part of this area of his work. The best of Alfred Badia's scattered output, from essays on the history of Catalan thought of the late 50's to recent critical reviews, is collected in the book Crítica, somni, projecte, recerca (1988) (Critique, Dream, Project, Research). Much of his material, however, remains excluded from it, especially his contributions to the daily press, which intensely occupied him since 1983. He was a contributor to the Diari de Barcelona, l'Avui, La Vanguardia, the Diari d'Igualada an also for combative publications such as El Llamp (Thunder) and Llengua Nacional (National Language). His were personally critical articles, very often from an openly polemic perspective, and concerned with a wide range of political and cultural events related topics. There still is an even more disperse type of works: children's stories, some of which appeared among the pages of children's magazines such as Cavall Fort and Tretzevents, but the best were spoken stories for the benefit of his daughter and granddaughter [La son (Sleepiness) poem in Catalan].
The publishing house Quaderns Crema published the antology Adés era l'alba (Then It Was Dawn) in 1990, when Alfred Badia was planning the final commitment of "his philosophy" to paper. The Anuari de la Societat Catalana de Filosofia of the Institut d'Estudis Catalans (Annals of the Catalan Society of Philosophy of the Institute of Catalan Studies, IEC) (6, 1994, ps.111-123) published a summary of it in 1994: "L'home real o la veritat jo-cos" ("The Real Man or the Self-body Truth"). However, the book that gathers it as a whole, written over the Summer of 1993, remains unpublished. He was awarded the Saint George's Cross, an honour given by the Catalan Government, on the 27th of April, 1993, while seriously ill with a liver condition. His last anthology of poetry, La llet astral de l'espiritrompa ( The Astral Milk of the Proboscis), saw the light after his death on the 24th of March 1994. During the season 1999-2000, the show Domna, directed by M. Dolors Vilarasau, staged trobairitz texts sung in Alfred Badia's Catalan.